Our versatility allows us to adapt to the latest demands.
We engage in genuine partnerships with every client
Here at ASH Plastics we've been working in close partnership with retailers for more than 40 years. This work involves designing, manufacturing and procuring the items which retailers need to showcase their products in the most effective manner. Retail display can play a crucial role in marketing, branding and point of sale customer service, and top brands work with us time and again because they know they can rely on us to deliver.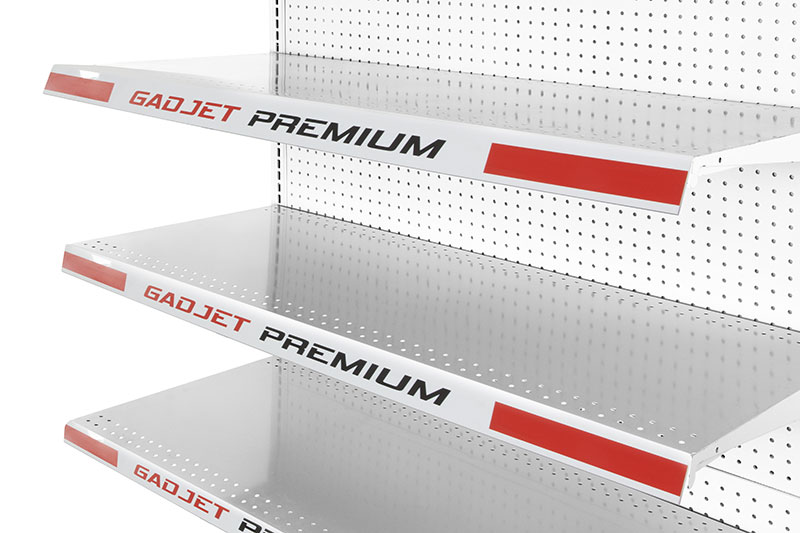 In some cases the solutions which clients need us to supply are large and complex, and include free standing display units and branded counter top displays. In many others, however, the demands of a retailer also include multiple smaller and simpler items which work together to create an appealing and efficient retail space.
The items in question include shelf risers and dividers, acrylic slatwall accessories and shelf liners. Shelf liners are used to highlight products on supermarket shelving and can be made of such materials as HIPS or PVC can be placed on existing shelves made of a range of materials in order to create a hygienic, easily-cleaned and quickly replaced surface for displaying items at point of sale or out on the shop floor.
In many cases the shelves themselves are constructed of materials such as chrome wire, which offers a combination of strength and lightness. The shelf liners can be manufactured from a plastic such as silicone and made to measure for specific shelves or supplied in a roll which the retailer can then cut to size and installed
Simple effective solutions
Once in place the shelf liners provide a hygienic surface which is easily cleaned and supports smaller items being displayed. In settings such as catering and hospitality the shelf liners may have to be designed as a lattice style support which enables objects such as glasses, cups and other items to be supported whilst draining effectively.
When a client comes to us to source shelf liners we'll give them a dedicated project manager to work in close partnership throughout the delivery of the project. In the vast majority of cases the details of a shelf liner will be extremely simple, and our 20,000 sq. ft. manufacturing facility will enable us to deliver large scale orders in bulk and in line with the kind of extremely tight lead times which often prevail in the retail sector.
If needed, we can call upon a global network of manufacturing partners to procure items with a view to taking advantage of the economies of scale which are available.
Creating simple and complex designs to meet requirements
If the details of the shelf liners needed are any more complex than a standard shape and size we can create a detailed design using CAD technology, and use that design as the basis of manufacture.
No matter how complex or simple the requirements of a client are, the finished products will be manufactured in line with the ASH Plastics ethos of quality, excellence and value.
Finishing techniques such as UV digital printing will also enable us to create shelf liners which fit into the wider branding of a retailer if needed.
If you'd like to learn more about the end-to-end one stop service we could provide for your company please get in touch. Our experts are ready and waiting to answer any questions and explain exactly what we could do to turn your ideas into a reality.
Call us or send an email and we'll start the process of delivering the solutions you're looking for.
Tel: +44(0)1902 450 300
Email: hello@ashplastics.co.uk