5 Great In Store Display Ideas to Boost Retail Sales
In store display benefits
Britain's third economic quarter of 2021 has illustrated a continued fall in retail sales. Despite this, there is much you can do to mitigate the effects of falling retail sales. Rejuvenating your in store display is one proven way of getting your new and existing products off the shelf, and into consumers' hands. We've put together some of the best in store display ideas in order to help you maximise your retail sales in spite of the current climate.
Effective instore display stands go a long way in making your products more appealing to impulse buyers. It's best not to overload your display stand, however, or offer your consumer too much choice; a simple, clear, and organised display works best. Centering your best or most popular products will moreover help attract your consumer.
With that said, creative visuals can elicit the best response from a customer – such as targeting emotions like nostalgia, following the latest trends, or aligning with seasonal holidays. Multidimensional displays which utilise colour, depth, and height can create a powerful first impression.
Optimise the counter area
Positioning your product in highly trafficked, specific areas of a store is one way of targeting impulse buyers. A countertop display unit, located at the point of sale (POS), works in this way. Consumers will spend more time in the counter area waiting to be served – your products could provide an oasis from this.
Furthermore, strategically choosing what goes on your POS display will be beneficial to your results; secondary, or smaller, products which may be complementary to the products sold in store – such as car air fresheners in a car wash – work best.
Promote inexpensive products near the store entrance
In a similar vein to the point above, tracking customers movements through a store can demonstrate frequently visited aisles or areas where your products are more likely to get noticed. There is one area, however, guaranteed to have a high footfall: the store entrance.
Free standing display stands will be hard to avoid, where you can entice customers with low prices or items on sale. Displaying inexpensive products near the entrance will encourage impulse purchases and draw customers into the store where more sales opportunities are available.
Consider product placement by price
Orientating the marketing of your product by price can be a great way of distinguishing your product from the rest. Surprisingly, this may not be because your product is cheapest, or most expensive because of its superior quality. Middle of the road prices attract consumers best – they provide a happy medium of both quality and cost.
Whilst discussing price, it is important to note products with no price tag at all will fly off the shelf. Of course, by this we mean samples or tasters – which can encourage your consumer to return the favour and buy your product after.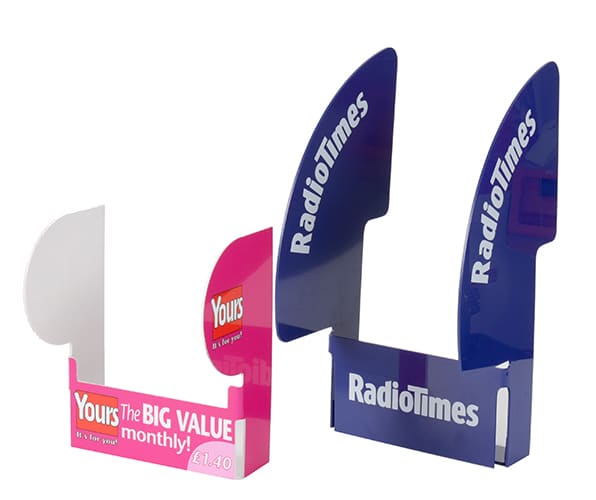 Incorporate technology into display stands
Engaging product displays resonate best with consumers; if the customer can see or touch a product, they are more likely to purchase.
Interactive product displays can play into this sensory stimulation whilst providing the consumer with further information that you haven't displayed on your stand.
Try using POS with QR codes – a QR code will redirect a consumer to your website or an educational video, engaging them with your product and brand.
If you'd like to learn more about the end-to-end one stop service we could provide for your company please get in touch. Our experts are ready and waiting to answer any questions and explain exactly what we could do to turn your ideas into a reality.
Call us or send an email and we'll start the process of delivering the solutions you're looking for.
Tel: +44(0)1902 450 300
Email: hello@ashplastics.co.uk