Point of Sale Display Stands vs Online Reach Campaign: Which is Better for Your Client?
Pos display stands vs. online advertising campaigns
Deciding how best to market your products can be tricky – especially with so many options available today for online or high street marketing. This article discusses the effect of Point of Sale display stands versus online reach campaigns to help you reach a decision.
What is point of sale advertising?
So, what is Point of Sale advertising?
Point of sale advertising, such as Point of Sale display stands, is a more traditional method of marketing products. POS display stands effectively promote your product within retail shops through complementary and eye-catching designs, messages, or slogans, at a location at which a consumer is ready to buy – such as the tills. They help your product stand out from other brands since your product literally stands out on its own display.
Meanwhile, online advertising campaigns demonstrate the limitless possibilities of the internet. They are planned campaigns that take place online in order to help you increase brand awareness and connect with your audience. Online advertising campaigns can take multiple forms and compromise of creating a free social media presence, paying for one through the likes of paid social advertising, or a little of both.
POS advertising pro's and con's
There are numerous advantages to POS which are overlooked in today's digitally orientated world. Point of Sale Display stands' success is measurable today – illustrating how timeless and adaptable this marketing tactic is.
Point of sale display stands are effective communicators – they do not rely on employees to communicate the important messages of your product, and give you total control over how your product is seen and interpreted. They do this continuously for the amount of time your stand is up. Because POS display stands are customisable, they can increase brand awareness by using complimentary colours and slogans associated with your brand, helping your brand get noticed. Finally, POS display stands target impulsive and indecisive buyers – though customers may not set out with the intention of picking up your product, yours is the one they take home.
Despite this, POS advertising can be costly (however keep in mind their bespoke nature means they can be adjusted to your marketing budget). It also must be acknowledged some consumers will not be tempted by POS display stands and stick to the brands they know.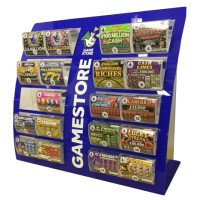 Social media marketing campaign attributes
The main benefit of Social Media Marketing Campaigns is reach. This heightened ability to target your relevant audience will often lead to a Return on Investment (however expect this ROI to be slow at first). With multiple options for starting a social media marketing campaign, they can often be cost effective (though an effective campaign will require a marketing manager or outsourcing to an agency).
However, a digital marketing campaign is often time consuming and needs a continuous input to ensure your brand is seen and stays relevant. Your business being readily seen comes at the risk of your competitors also seeing what you're doing in the present moment – and they may be able to counterattack in bigger and better ways. Finally, a social media marketing campaign needs to be well thought through, since posts that don't sit well with your online audience can make your brand name vulnerable to criticism.
With social media marketing comes a great risk that the time and money invested will not come to its most beneficial fruition; tried and tested methods, such POS advertising, offer established marketing methods that can easily be remodelled to meet the modern consumers' satisfaction.
If you'd like to learn more about the end-to-end one stop service we could provide for your company please get in touch. Our experts are ready and waiting to answer any questions and explain exactly what we could do to turn your ideas into a reality.
Call us or send an email and we'll start the process of delivering the solutions you're looking for.
Tel: +44(0)1902 450 300
Email: hello@ashplastics.co.uk